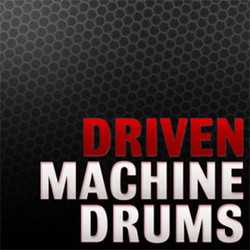 When I first visited the Driven Machine Drums website I thought I had found another one of those silly marketing schemes. You know those sites that promise loads of "fresh" content for cheap, meaning to say they'll send you a disc with stuff that is old and readily available to download from the internet, free of cost…
Just reading the first few paragraphs on the website immediately triggered my scam alert.
Have you purchased hundreds; even thousands of drum sounds… only finding a handful of gems among the clutter? Are you often irritated when sifting through countless sounds, devastating your creative flow? Do you fight with samples to make them tight, slamming, and club ready… only later to be disappointed in the results? Have you fantasized about the multi-million dollar deal or winning the lottery so you can stack your studio with all the esoteric highend gear? Does your music command you have the latest kit, to gain the advantage and stand apart from the masses?

If you answered "YES!" to any of these questions, then you are in the right place and the right time.
The website even mentions a 30-day no questions asked refund, and then there's the odd "only 997 copies will ever be available" thing.
The whole thing looked pretty dodgy to me, but my gut feeling was wrong.
The guy behind ToneBuilder and Driven Machine Drums is Nathaniel Shreve, an electronic musician who is passionate about his work. He wanted to make sure to share some interesting things about how the library came to be, and why he feels Driven Machine Drums is different from other drum sample libraries.
Now whether or not you enjoy Nathaniel's style of writing, the bottom line is: this product is legit and well worth checking out.
What do you get?
Driven Machine Drums includes samples from a variety of synthesis sources:
Elektron Machine Drum
Symbolic Sound Kyma Capybara
Eventide H8000FW
Korg ER-1
E-mu SP-1200
Oberheim DMX
Yamaha DX200
Roland TR909, TR808, TR707, TR606
Jomox MBase 11
Vermona DRM-1 MKIII
While in itself that's a nice list of gear, the special thing about Driven Machine Drums is the way each of the drum sounds was processed with analog coloration hardware. Tubes, tape emulation, transformers and envelope shapers were used to add a distinct "drive" to the samples.
Nathaniel writes:
See, what makes the MPC3000s and SP1200s so special was the quality of DRIVE added on the input. That drive adds natural compression, limiting, and HARMONIC DISTORTION, making the drums appear louder, warmer, and punchier.

Have you ever heard an acoustic guitar recording vs. a driven guitar recording? Play them at the exact same level and the DRIVEN guitar will appear to be louder.

This is the exact thing that was happening with my drums. They became louder, sharper, and driving without resorting to obscene amounts of limiting.
The Driven Machines Drums samples are categorized in various folders (claps, kicks, snares, etc.) and include a total of 1,684 samples:
362 Kicks
244 Snares
108 Claps
218 Cymbals and Hats
135 Toms
190 Hand Percussion Hits
158 Sticks, Rims, Metals, and Bells
272 Electronic Noises including Bass Boosters
Each folder has a number of subfolders with a descriptive title (e.g. DMD Ana Soft BNS, DMD Hats Fltrd 909) to help you find the type of sound you need.
The samples are available in 24bit WAV and AIFF formats. MPC users will be happy to hear the library also includes 16bit dithered WAV and there are 26 kits for FXpansion GURU.
A Deluxe version also includes Kontakt and EXS24 patches.
Check some of the sounds from the Driven Machine Drums library below.
So what do I think?
Product
: Driven Machine Drums by ToneBuilder
Format
: 24bit WAV/AIFF, GURU/Kontakt/EXS24
Price
: $77 USD ($87 USD for the Deluxe version)
ToneBuilder is taking drum machine sampling to the next level. The sounds of Driven Machine Drums were designed and edited individually using a combination of analog processing gear. This way Nathaniel managed to get an amazing warm and punchy sound, full of that analog character many of us are looking for.
I didn't find the Kontakt patches very useful as they simply map a (sub)folder of sounds across the keyboard. Handy for auditioning sounds but I think mapping the samples to drum kits would have been more valuable.
Driven Machine Drums is probably just another collection of electronic drum hits to those who think every 808 snare sounds like that one sample they already downloaded from the internet a few years ago. However, if you are serious about your drum hits Driven Machine Drums is certainly worth checking out, especially since there will only be a limited amount of copies sold.
In short, Driven Machine Drums is a great collection of electronic drum hits. High quality sounds with plenty of character to separate it from the competition.
ToneBuilder has a generous 100+ sample pack available to download on the Driven Machine Drums website, and you can get an additional pack of 34 free sounds here.
Note: the original DMD library is no longer available but you can grab the DMD3 + MD Bundle with 5,159 samples for only $47 USD at ShareIt!
More information: Tonebuilder