Rhythmic Robot has launched NanoMod 8-bit, a free instrument library for Native Instruments Kontakt.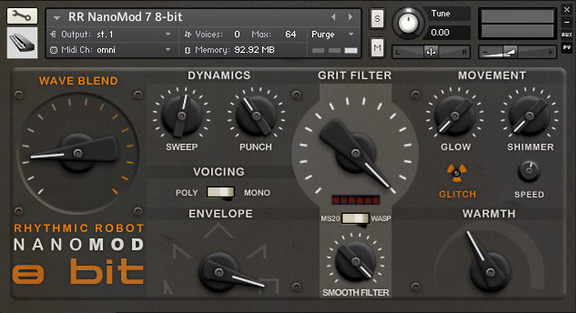 NanoMod 8-bit is a simple but versatile Kontakt synthesiser based on vintage 8-bit polysynths, featuring an "intelligent" interface that allows the user to adjust multiple parameters with single controls. It is offered as part of the KVR Developers' Challenge 2014.

NanoMod 8-bit brings the simplicity of Rhythmic Robot's NanoMod interface to bear on the crusty, gritty, aliased sounds of classic 8-bit synthesisers of the early to mid 80s. Using source waves taken from vintage Ensoniq hardware and a front-end incorporating convolved Wasp and MS20 filters, this NanoMod is aimed squarely at big, powerful polysynth sounds – everything from warm and evolving pads to screaming leads.
The library is a free download, released as an entry to the KVR Developer Challenge 2014.
More information: Rhythmic Robot / NanoMod 8-bit