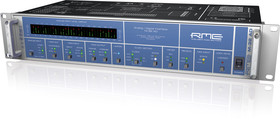 RME has announced it is now shipping the M-Series of converters with MADI and ADAT interface.
RME's comprehensive MADI line is now extended by hi-class multichannel converters with 16 and 32 channels. The M-series converters have been conceived and optimized for professional studio, stage, and broadcast applications.

Packed into only 2U height the M-32 AD offers a 32-channel AD-conversion to MADI and ADAT in reference quality. The fully symmetrical analog circuit design guarantees excellent S/N and THD specs across a wide analog level range. Using up-to-date converter technology, the device not only works up to 192 kHz, but also reaches a real-world signal-to-noise ratio of 116 dBA – on all channels. Further features are analog limiters for an efficient protection of the analog inouts against overload, three hardware reference levels up to +24 dBu, MADI and ADAT I/O, analog inputs via 6.3mm TRS and D-sub connectors, remote control via MIDI and MIDI over MADI, and operation across a wide range of mains voltages.

Nearly identical features are found in the M-32 DA, which offers a 32-channel high-end DA conversion. It is easy to operate despite having a comprehensive feature set. The unit combines excellent analog circuit design with the latest converter chips and RME's superior SteadyClock into a state-of-the-art DA conversion, with outstanding THD and S/N specs of up to 118 dBA.

Both converters are also available as 16-channel versions. Except for the reduced channel count M-16 AD and M-16 DA are identical to their bigger brothers.

Included ADAT ports make the M-series not only first choice with MADI, but also a perfect solution for all other units having ADAT interfaces.
More information: RME