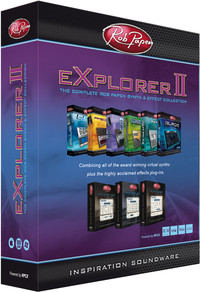 Rob Papen has announced eXplorer 2, a bundle comprising all 9 Rob Papen products.
The Rob Papen eXplorer 2 Synth and Effect Collection, combines all of Rob Papen's revered virtual synths and effects.

eXplorer 2 includes Blue 1.9, Predator 1.5, the all new Blase additive synthesiser, the extremely powerful and flexible drum machine Punch, SubBoomBass bass synth, RP distort, RP Delay and RP Verb 1.5. Create edgy and modern sounds in your productions thanks to the thousands of rich and complex and track-ready presets included, created by Rob Papen, and many guest artists such as the legendary Noisia.
eXplorer 2 features
Blade: The cutting edge of today's synthesizers.
Punch: Speaker busting and body rattling drum machine.
BLUE: Crossfusion synthesis. FM, phase distortion, wave shapping & subtractive.
SubBoomBass: Ultra-deep groove bass synth with built-in step sequencer.
Predator: Phat analoge synth with killer presets and first class features.
PredatorFX: Filter, modulation, vocoder and effects plug-in.
RG: Electric & acoustic guitar grooves with sequencer and synth effects.
RP-Delay: Delay insanity. reverser, 6 lines, 8 filters, 4 LFOs & more.
RP-Verb: An advanced, transparent and musical algorithm reverb with easy controls.
RP-Distort: Wicked FX unit that will distort or alter your tracks.
The eXplorer 2 bundle will be available May 30th, 2012. Upgrade info will follow.
More information: Rob Papen / eXplorer 2