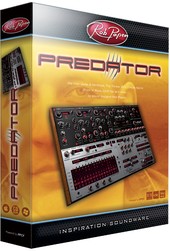 Rob Papen has updated the Predator virtual synthesizer instrument to version 1.6.2.
New filter types, new fx types and different GUI colour option! And, of course, a lot new presets have been added as well, new classic synth, DuBstep, Trance etc presets.

Also the Trance session bank by Gizeh has new presets and a very special classic synthesizer music bank has been added, programmed by Michel van Osenbrugge of SYNTH.NL
Changes in Predator v1.6.2
New oscillator modulation types: PM, Sign, Max, Min, S&H Mix.
New filter types: 12dB & 24dB LP/HP/BP and Notch (type 2), Comb – filter and two new formant filters.
Filter 2 with all filter types added included Q control.
Filter 2 panning moved into filter section (was advance panel).
Tempo sync Free Envelope 1&2.
New fx added: stereo tape delay, tape flanger and analogue phaser.
Alternative GUI color (more light grey color).
Optimized DC offset respond.
Back panel offers global tuning and tuning scales (.tun files).
Midi program change and midi bank select can be turned off.
New classic synth music by SYNTH.NL: 30 Synth NL bank.
New session presets with Gizeh (trance banks): 30 Gizeh Trance 2, 30 Gizeh Trance 3.
New presets inside these banks: 02 Predator dance 02, 03 Classic synth 03 and 04, 04 HipHop RnB 02, 05 Trance and PsyTrance 03, 12 DubStep 02, 11 all SFX 02, 20 all basses 04.
Manual is again PDF and can be opened if you click at the ? button (lower right corner).
Predator for Windows and Mac (VST/AU/RTAS) is available to purchase for $179 USD / 149 EUR. The update is free for existing users.