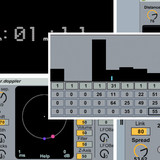 Robert Henke has released a number of free devices for Max For Live.
MaxForLive is a flavor of the Max programing language that only works in conjunction with Ableton Live and allows users to create their own devices and to share those. In order to use these effects, one needs to own Ableton Live Version 8.1 or higher and the MaxForLive extension.

Depending on my time and the feedback I consider uploading more devices, including some tricky Live.API stuff. However, this might not happen very soon.
Robert Henke Max For Live Devices
PX-18

— Step sequencer originally written by Robert Henke and Gerhard Behles around 1995. More or less all rhythmical Monolake tracks have been sequenced with the PX-18 and a lot of inspiration for the way how Ableton Live deals with 'clips' and 'scenes' came from our experience with the PX-18. This version here offers the functionality of a single track of the original PX18.

Black

— A simple device which does two things: It displays songtime in hours:minutes:seconds- at least as long as you are working with a constant song tempo. And it allows to black out the computer screen while listening to the music.

Distance

— This audio effect device is for those who are into careful placement of sonic events in the stereo field. Its main parameter is a big 'distance' control. It affects volume, filtering, pan and stereo width of the incoming audio signal.

Circular Doppler

— Two virtual microphones rotate around a single sound source. Doppler delays, distance dependent amplitude modulation and filtering included. Movement of source and microphones synced to song position. This allows 100% reproducible effects.

Grain Freeze

— A granular audio freezer effect. Creates lush textures out of everything.
Robert Henke's Max For Live devices are available to download at no cost, and can be modified in any way you want.
More information: Robert Henke's Max For Live Devices