Roland has announced the BA-330, an all-in-one portable PA solution for music venues, worship events, conferences, seminars, business meetings, and much more.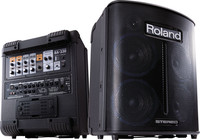 The BA-330 has a four-channel configuration, with two channels dedicated for microphones or instruments, and two other channels for standard 1/4″ stereo inputs. Each channel has its own independent tone adjustment and effects switching for built-in effects, such as EQ, reverb, delay and widening. A Stereo Link function allows for a pair of BA-330s to work in tandem to provide an extra-wide stereo spread.

Powered by a high performance digital stereo amplifier, the BA-330 features four custom-designed 6.5″ stereo speakers and two tweeters, positioned for wide stereo dispersion. While the built-in tilt-back stand enables the unit to be angled up for better sound monitoring, the BA-330 also can easily be mounted on a speaker stand.

The Roland BA-330 PA System features a unique Intelligent Anti-Feedback function previously unavailable in self-contained portable PA systems. During use, the BA-330 can automatically detect potential feedback possibilities and eliminate it immediately. This is a huge advantage over manually adjusting volume levels, as it allows performers to place the PA system behind them and easily hear themselves without experiencing feedback.

Designed to deliver high-quality stereo sound for audiences of up to 80 people, the BA-330 can run on standard AC Power or eight AA Alkaline or Ni-MH rechargeable batteries. The switchable output power allows the user to switch between the maximum power and the energy-saving Eco modes to preserve battery life. The BA-330 is also amazingly efficient, delivering a sound pressure level of 109 dB, comparable to much larger mid-range sound systems.
BA-330 Portable Digital PA System features
All-in-one portable digital PA system suitable for use anywhere.
Powerful high-quality stereo sound for audiences of up to 80 people.
No setup required, just plug in and go!.
Powered by AC power or eight AA batteries.
Four custom-designed 6.5″ speakers and two tweeters for wide stereo projection.
Built-in effects: EQ, reverb, delay, and wide (on/off per channel).
Four-channel configuration: two channels for mic/instruments plus two channels for stereo inputs.
Stereo Aux input with dedicated volume-control knob.
Advanced Intelligent Anti-Feedback function.
Built-in tilt-back stand enables optimal monitoring angle.
Speaker-stand adaptor for mounting on a standard speaker stand.
The BA-330 will be available in November 2009 with an MSRP of $829.50 USD.
More information: Roland