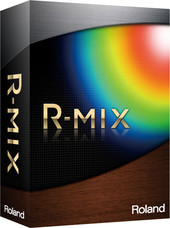 Roland has announced R-MIX, a new era in audio processing software, giving recording professionals and those just starting out the tools to visually and intuitively manipulate stereo mix audio easily in real time.
Featuring the newly developed proprietary V-Remastering technology and the highly-acclaimed VariPhrase® technology, R-MIX allows you to see the individual components of a stereo mix as color-coded clouds of harmonic matter and to apply effects or center cancel exactly where and as you wish within the mix.

R-MIX can also help musicians learn songs by offering focused access to any desired instrument in the mix and the ability to slow down fast or complicated sections.
R-MIX features
View the elements of a stereo mix as color-coded clouds of energy and frequency matter onscreen.
Freely select and manipulate any element within a stereo mix.
High-quality sound.
Create "minus-one" type karaoke files from existing songs by lowering the level of the pre-recorded vocal or any other instrument you select.
Create your own remixes and mash-ups by using two pairs of stereo tracks within R-MIX t Isolate any desired instrument within a mix, and then solo and slow down that element for study.
Clean up old recordings and master your stereo mixes by adjusting individual instrument levels within a mix and applying noise reduction and effects.
Compatible with Mac and Windows.
Simplified version available for Apple iPad.
R-MIX availability and MSRP details TBA.