Roland has announced the release of the GR-55 Guitar Synthesizer, a revolutionary new product from the world's undisputed leader in guitar synthesis technology.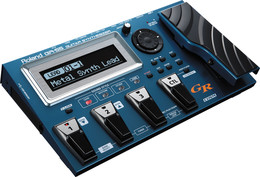 Combining PCM synthesis with digital instrument modeling from the respected VG-99 V-Guitar System, the GR-55 represents Roland's latest advances in guitar synthesis, offering playability, features, and sound quality that far surpasses the capabilities of previous generations of guitar synthesizers.
GR-55 features
A revolutionary fusion of guitar synthesis and powerful COSM® guitar modeling.
Up to four sound sources at a time: two PCM synth tones, plus COSM guitar modeling and normal guitar input.
Easy to use and easy to play with hundreds of great, ready-to-use sounds for rock or pop guitarists.
Advanced Roland technology provides superb sound quality and lightning-fast processing.
Over 900 of Roland's latest fully editable PCM sounds, including pianos, organs, strings, vintage synths, and much more.
COSM guitar and amp modeling.
Two types of multi-effects engines, plus global reverb, chorus, and delay effects, and an onboard looper.
Built-in USB audio player with foot control.
Available with or without GK-3 Divided Pickup.
The GR-55 is now shipping with an MSRP of $979 USD, or $1,199 USD with a GK-3 Divided Pickup included.