Roland has announced the release of the SYSTEM-8 PLUG-OUT Synthesizer, an advanced performance instrument that features the latest generation of the acclaimed Analog Circuit Behavior (ACB) technology.
The 8-voice, three oscillator synthesizer comes with 49 keys and a whole lot of high-resolution knobs and sliders.
It supports three PLUG-OUT synths, and it already includes a JUPITER-8 PLUG-OUT and a complimentary JUNO-106 PLUG-OUT will be added in a SYSTEM-8 update in 2017.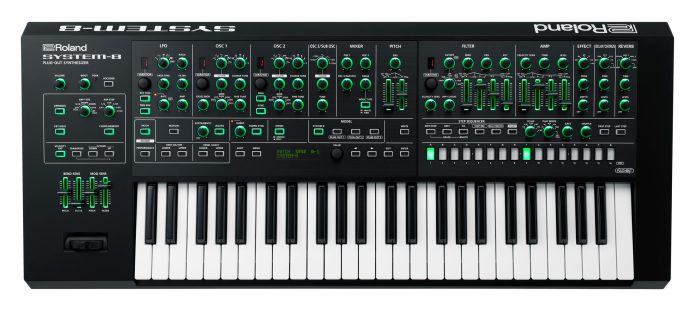 Powerful and deep, the SYSTEM-8 delivers a wide range of sounds inspired by over four decades of legendary Roland synths. To complement its internal sound engine, the SYSTEM-8 can host and control up to three Roland PLUG-OUT software synthesizers, and new JUPITER-8 and JUNO-106 PLUG-OUTs are included with purchase. The synth also includes a massive array of hands-on controls, as well as a polyphonic step sequencer, vocoder, CV/GATE outputs, arpeggiator, and other creative tools.

First developed by Roland for the popular AIRA series, ACB technology has received universal acclaim for its ability to authentically recreate the sound and behavior of historic analog synths. The SYSTEM-8 features the most advanced ACB engine yet, which powers eight voices of polyphony, three oscillators, hi-resolution filters, and versatile LFOs. Expressive and diverse, the engine is capable of producing everything from classic analog-style pads, basses, and lead synths to crisp, dynamic tones and evocative textures that are ideal for modern sound designers.

The SYSTEM-8 also features three expansion slots for hosting and controlling Roland's PLUG-OUT software synths. JUPITER-8 and JUNO-106 PLUG-OUTs are included, giving users immediate access to sonic reproductions of these Roland classics. Optional PLUG-OUTs such as the SH-2, SH-101, PROMARS, and others are supported as well. Using the SYSTEM-8's Performance mode, it's possible to combine the internal synth engine and hosted PLUG-OUTs to create super-synth patches with layered voices, custom splits, and more.
SYSTEM-8 features
Versatile performance synthesizer with advanced ACB technology and 49 full-size keys.
Internal sound engine delivers classic analog tones and dynamic modern sounds with analog vibe.
Hosts up to three PLUG-OUT synths; JUPITER-8 and JUNO-106 PLUG-OUTs included.
Advanced low-pass, high-pass, and side-band filters with high-resolution controls.
Massive real-time control with dedicated knobs, sliders, and buttons.
Polyphonic step sequencer with classic TR-REC style interface.
Arpeggio, vocoder, and polyphonic Chord Memory functions.
CV/Gate outputs for interfacing with modular synths and vintage gear.
Large selection of onboard effects with hands-on controls.
USB audio/MIDI interface and control surface mode.
The SYSTEM-8 PLUG-OUT Synthesizer has a street price of $1,499 USD. Availability TBA.