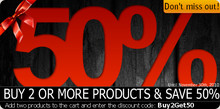 Roqstar Entertainment has announced a limited time deal, offering 50% off on every purchase of 2 or more of its products through November 30, 2010.
Yes, it's true! You can buy any two (or more) products on our website and get 50% off! Don't miss out and save BIG. If you decide to get more then two products you a still get 50% off on your total amount. This means you pay only one product and get another one for FREE!
Roqstar has also released a set of free MIDI files from the Pop Ballads sample pack.
You have purchased our Pop Ballads Library? Then we got great news for you. We decided to release the Midi Files for this particular library. And what's best: it's completely free!
More information: Roqstar Entertainment