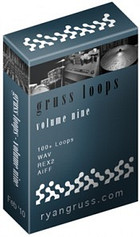 Ryan Gruss has released Gruss Loops Vol 9, a collection of drum loops.
That's right, the wait is finally over. A crisp February 1st in Boston brings yet another new pack of loops for the loyal subscribers of ryangruss.com

I pride myself on producing a highly eclectic range of styles with each new release and Vol 9 is definitely no exception.
Gruss Loops Vol 9 includes 100+ loops (each as AIFF, WAV and REX2) and is available now to subscribers. Monthly subscription is available at $9.95 USD.
Visit Ryan Gruss' website for more information.