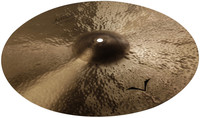 Sabian has introduced the Vault Artisan Traditional Suspended Cymbal, a cymbal for Old World sounds, with improved performance for orchestral percussionists.
Available in sizes 15" through 20", the Suspended joins the recently released Vault Artisan Traditional Hand Cymbals in offering premium 'Old World' sounds that are tonally deep, dark and rich, with a robust vintage musicality. Medium-thin in weight, the Suspended responds readily for crashing or crescendos, ensuring complete control for the player.

Commented SABIAN Master Product Specialist Mark Love, "The sound of a Vault Artisan Traditional Symphonic cymbal is that of a century-old model that has matured through decades of playing. It's a combination of high-density traditional hand hammering and a touch of innovation that actually improves on the performance and sound of those older cymbals. Like the Vault Artisan Hand Cymbals, this Suspended model responds easily and dynamically, so the desired sound is readily accessible."

Added Nick Petrella, SABIAN Director of Education, "Because it sounds dark, responds quickly, has that age-old 'mysterious' tone, and quickly opens up to a roar, the Vault Artisan Traditional Symphonic Suspended is perfect for today's wide range of orchestral work. In my opinion, this is the best suspended cymbal available—bar none!"

Vault Artisan Traditional cymbals are designed by the SABIAN Vault Team in collaboration with a number of the world's leading percussionists. "Accurately recreating, let alone improving upon the complex sound of hundred-year-old orchestral cymbals is a massive challenge," concluded Love. "Thanks to the insight of these musicians and the traditional craftsmanship skills of our artisans we are able to design and craft such sounds."

Vault Artisan Traditional Symphonic models are individually hand crafted from premium B20 bronze by SABIAN Master Artisans. They are quality-protected by the SABIAN Two-Year Warranty.
Vault Artisan Traditional Suspended Cymbal
Size: 15", 16", 17", 18", 19", 20".
Weight: Medium-Thin.
Finish: Natural (Brilliant is optional).
Metal: B20 Bronze.
Hammering: 'High-Density' Traditional Hand Hammering, Innovative HHX 'Tone Projection' Dimpling.
Lathing: Narrow 'pin-style'.
Special Feature: Combines traditional craftsmanship with innovative SABIAN techniques.
More information: Sabian