Samplephonics has announced its Analogue Sale, offering a 50% discount on selected sample libraries.
Drum samples, vintage sequencers, synths and more…

We're offering a massive 50% off all of our analogue based products, including some amazing products such as the 808 Sequencer, which is now available for a ludicrous £24.50, and Circuit Malfunction which contains over 1100 modular synth drum and percussion one shots, for only £17.35. It's downright craziness.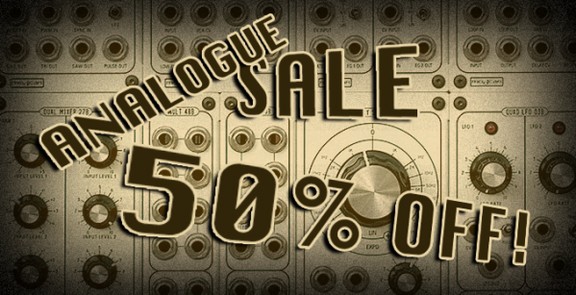 Samplephonics Analogue Sale
Analogue Witchcraft—This is quite simply the most diverse and exciting sample pack we have released to date, packed full of leftfield and experimental loops and samples all with their own unique flavour and texture.
Circuit Malfunction—Circuit Malfunction contains 1153 one shot drum, percussion and effect samples created from a large analogue modular synthesizer and various pieces of circuit bent gear.
Deep Chords Toolkit—Deep chords toolkit combines 622 pristine 24 Bit Wav samples and over 120 sampler patches of sampled chords from a vast collection of vintage synths and keys.
Electro Synth Progression—Over 250 fat and juicy analogue synth loops, expertly crafted to bring new and exciting flavours to your music.
Lithium Beats by EVAC—Lithium Beats is a powerful drum machine, containing a huge selection of finely tuned electronic and sampled percussive drum kits from producer EVAC, with a stunning interface for Kontakt 5.
Samplephonics 808—4599 24 Bit Wav samples (available in 44.1khz, 96khz or 192khz sample rates), with multiple input options available (clean, direct to tape and overdriven tape).
Samplephonics 909—4000+ 24 Bit Wav samples, meticulously sampled through two inputs, one clean, and one through a Thermionic Culture 'Culture Vulture' to provide some real analogue tube warmth and extra beef!
Toby Baker: Retro Keys—A selection of beautifully recorded Wurlitzer, Hammond, Rhodes and Analogue Synth grooves, organised into mini construction kits for ultimate flexibility.
Twisted Electronics—Welcome to the world of circuit bending, where rewired synths, modified toys and twisted electronics combine to create an extreme combination of sounds like nothing you have ever heard before.
VCS3: Uncooperative Sequences— A collection of truly uncooperative synth loops from the mighty EMS VCS3 synth, full of debauchery and misbehaviour.
Vintage Keys // Slice Machine—492 beautifully recorded vintage keys loops and custom slice machine for Kontakt!
Voodooteque—Composer, producer and sound designer Paul Rez (Analogue Witchcraft) returns for another epic sample library packed full of character and attitude.
The sale ends July 14th, 2013.
More information: Samplephonics