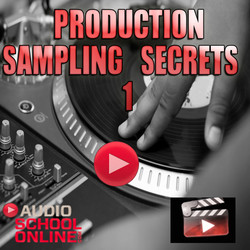 Samplerbanks has launched Production: Sampling Secrets Lesson 1, the first title in a series of sampling secrets videos by Ken Lewis of Audio School Online.
Ken takes a classic sample (used in Jay Z's "Roc Boys") and shows you how to isolate the horns only and remove the drums and bass, or isolate the bassline only, snares only, etc… as well as layer different pieces of the sample together to create new sounds and moods.

Ken Lewis then takes you through three more samples showing how to take boring straight ahead drum loops and add energy and presence to them using EQ, compression, filtering, M/S Equalization, and phase inversion. He breaks down "A Minus B" listening and how it can transform your sample sources into completely new sounds.

The full Pro Tools session is included with the download as well as consolidated WAVE files for any DAW systems.
The lesson is available to purchase for £9.25 GBP.
More information: Samplerbanks