Samples From Mars has announced the release of Modded 606 From Mars, a sample pack featuring the sounds of the 80s TR-606 analog drum machine modded for deep bass.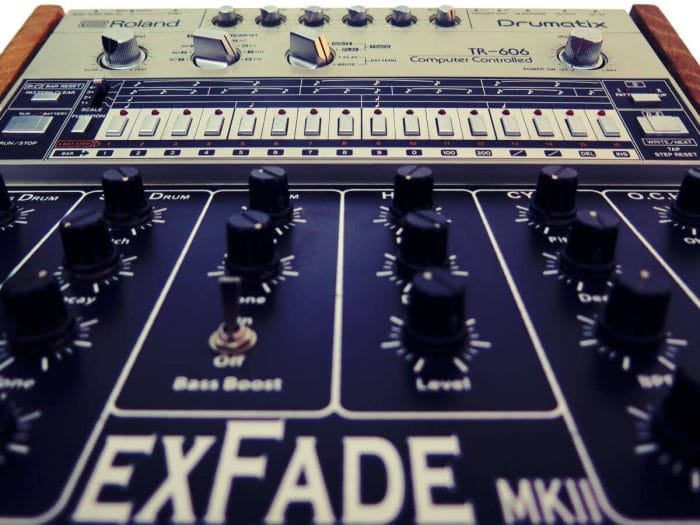 The 606 is an analog drum machine from 1982, originally built to accompany the TB-303. The original drum machine's sound is similar to an 808 (perhaps a little more unique) and can be heard all over early Plastikman, Aphex, Autechre and more.

But we've sampled a modded 606, which adds a huge bass boost to the original tom, transforming it into a monstrous booming sub kick that sounds like a cross between an 808 and 909. We also get tuned kicks & hi toms, pitched snares, uniquely metallic hi hats and trashy cymbals, none of which you'll find in any other 606 samples. This thing sounds so fresh!
Modded 606 From Mars features
1200 X 24bit WAV Samples Recorded to Tape.
Tuned Kicks & Toms, Saturated & Clean Analog Snares.
Dirty Cymbals & Metallic Hats.
Recorded through audiophile gear: API, Apogee, Neve, Moog, Otari & more.
Fully mapped for Ableton Push, Logic, Kontakt & more.
1.8 GB Unzipped.
Samples From Mars has also recently released Modern Oddities From Mars, a sample pack featuring samples from the PO-12 by Teenage Engineering.
This is a truly unique release – we took a tiny little drum machine (with a big sound), sequenced it with FX and looped the results through a Roland Scooper, where the sounds were live-warped, bit crushed, reversed, pitched, re-quantized and filtered. All of this was captured on 1/4″ tape and transformed into a killer library of modern & weird (but highly useable) sounds and instruments.

The result: clubby kicks, modern claps, punchy snaps, cosmic toms, synthy hi hats, Villalobos-style perc and tons of wonky FX hit. Clean one shots, dirty lo-fi drum kits, and fully tweakable chromatic keyboard instruments for Ableton, Kontakt, Logic, WAV & more.
Modern Oddities From Mars features
800+ One Shot 24bit WAVs of drums, percussion & FX.
Fat 909 style kicks, electro snares, modern claps, punchy snaps, cosmic toms, synth-hats and weirdo percussion.
Ready for Ableton Push with fully mapped drum racks, lo-fi drum kits & keyboard instruments.
27 fully mapped instruments for Kontakt, Logic EXS, Reason NN-XT, HALion, MachFive, SFZ, Soundfont & Structure.
All kicks and tonal percussion are tuned and labeled by note name where applicable.
Recorded to tape through a variety of analog hardware – API, SSL, Neve & More.
Extensive bit crush, pitching, filtering, warping and processing gives you sounds the original machine wasn't capable of producing.
675 MB unzipped.
The sample packs are available for purchase for $29 USD each.
More information: Samples From Mars