Samples From Mars has launched SK1 From Mars, a sample pack that offers the grainy, lo-fi sound of the Casio SK-1 keyboard.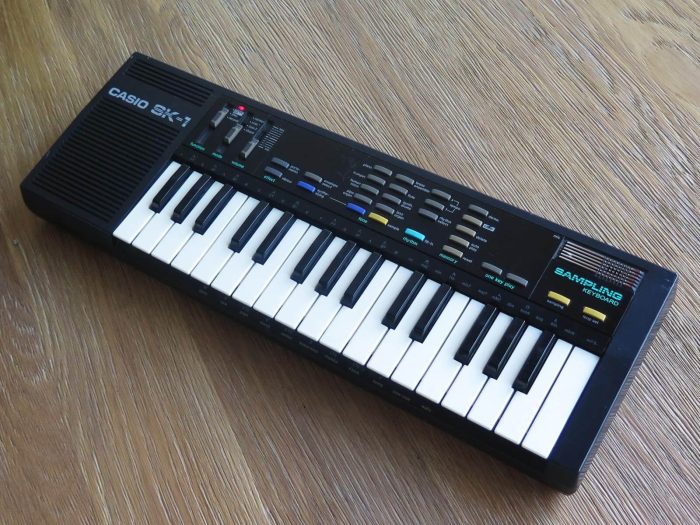 The SK-1 is a cheap and un-assuming 8-bit synthesizer and keyboard sampler from the mid 80s. It's super gritty and lo fi in almost every regard — from the frequency-squeezing mic input to the uber-funky PCM based sampler (which gives you a whopping 1.4 seconds to cram whatever idea you have into it).

But what sets this toy-like instrument apart from all the other garage sale bound keyboards out there? The sound, of course! Coupled with its ease of use, it's no wonder almost all users have a soft spot for the synth (seriously, try to find some negative reports on this guy). The SK's sound is grainy, unique and charmingly archaic.
SK1 From Mars features
18 Multi-Sampled SK-1 Instruments For Ableton, Kontakt, Logic, Reason, Structure & 24bit WAV.
22 Accompaniment-Style Drum Patterns and Fills recorded to tape available as 24bit WAV, Apple Loops & REX2.
Fun vocal synths, grainy trumpets, lo fi pads, 8 bit organs, cheap pianos and more.
Extensive multi-sampling, modulation and FX routing on all instruments.
Hand trimmed and looped to perfection.
Clean and processed recordings with a variety of Class A gear.
453 MB unzipped per format.
SK1 From Mars is available in various formats, priced at $9 USD.
More information: Samples From Mars / SK1 From Mars