Samples From Mars has released WASP From Mars, a sample pack featuring the sounds of the WASP hybrid synthesizer, capable of generating all types of crazy sounds.
The WASP is a funky, dual-oscillator synthesizer designed by Chris Hugget in the late 70s, who would later go on to make the esteemed OSCar synthesizer.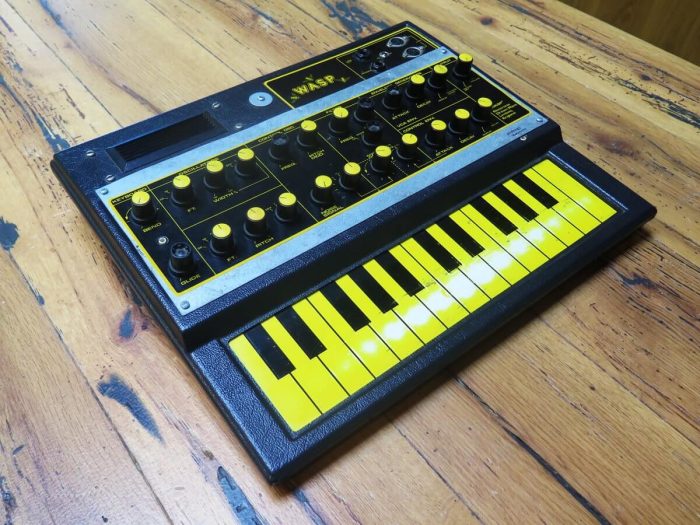 One of the earliest hybrid synths, it features two digital oscillators that feed an insane, multimode analog filter whose character lends itself to the buzzy arthropod it was named after.
After spending even a little time with this synth, it's quickly apparent the WASP is more of a BEAST than an insect. With sharp leads, cutting bass, a buzzy filter, and wonky FX, it's clear why its sounds are sprinkled all over Broadcast's discography (we actually sampled the same one they used!). And it's no shock that John Casale (Devo) named checks the WASP as his favorite old synthesizer, (even after stage lights melted its cheap plastic casing during a performance).

Especially when the sampling process is able to clean up the synth's irregularities a bit, the WASP From Mars is a powerful way to inject bizarre, late 70s digital x analog synthesis into your DAW (with no risk of melting).
WASP From Mars features
40 Multi-Sampled WASP Instruments.
Drunken pads, skin-piercing leads and swarming FX.
Raw waveforms, evil basses and deranged modulation.
Clean and processed recordings with a variety of Class A gear.
Extensively multi-sampled modulation and FX routing on all instruments.
Hand trimmed and looped to perfection.
2.5 GB unzipped.
WASP From Mars is available for $29 USD. Formats include Ableton Live, Kontakt, Logic, Structure, Reason, and 24-bit WAV.
More information: Samples From Mars / WASP From Mars