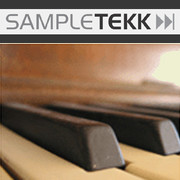 SampleTekk has announced an Acoustic Piano Sale, a time limited offer on its acoustic piano sample libraries.
SampleTekk Acoustic Pianos
7CG – Seven Seas Grand, Yamaha C7

– Super detailed multisampled Grand Piano No less then 93 unique samples per recorded note.

7CG Jr, Yamaha C7

– A subset from the 7CG – The most detailed sampled Yamaha C7 (c) ever.

Black Grand – Steinway D

– The magnificent Steinway D, recorded in a concerthall for the true concert grand experience.

Harpsichord

– The instrument was sampled in thirds, (C, D#, F# and A) in each octave.

PMI Bosendorfer 290

– This Bösendorfer library provides the greatest possible control during the softest pianissimo, through crescendos to the reserves of power needed for the loudest fortissimo.

PMI Clavichords

– This library brings you a small and a larger Clavichord. The clavichords have been sampled with their release sounds, giving them an unbelievable realistic quality.

PMI Estonia

– Estonia Concert Grand piano is a multi-velocity level chromatically sampled piano of the highest realism!

PMI Forte E

– A new 24 bit sampled Fortepiano with 3 velocity layers, sustain and modulator patches.

PMI Historic Keyboards

– A collection of historic instruments: 2 harpsichords, a virginal and a fortepiano for GigaStudio and compatible samplers.

PMI Hybrid

– Modular: Design Your Own Piano. The Hybrid Pianos are unlike any other piano library available today.

PMI Old Lady

– The final 24 bit grand piano library! This library brings you an amazing Model 1923 Steinway D grand piano.

PMI Steinway D

– We recorded the best grand piano we could find. This particular instrument is in premium condition, a Steinway model D3 with serial number 393210 which was built in 1965.

PMI The Emperor

– The final 24 bit grand piano library!!! EMPEROR: This library brings you an incredible Bösendorfer 290 SE as the most realistic sample library available today.

PMI Yamaha C7

– PMI Yamaha C7 concervatory grand. Pop piano! Up to 16 levels of velocity, recorded at 96kHz/24 bits.

Rain Piano

– A serious Upright piano with character. Sometimes a Grand Piano is simply too much or lacks personality. Rain Piano is professionally setup to add character while staying in tune with your other instruments.

SG88 Mk II

– Studio Grand 88 – A large sample instrument that provides extra responsive velocity layering smooth transition from softest to loudest timbres.

Steiny D – Steinway D

– Based on the same samples as the award winning Black Grand. Sampleset contains more then 1000 individual samples.

Steiny D Close! – Steinway D

– Based on the samples recorded during the Black Grand session.

TSO Yamaha C7

– The TSO is the stripped down, slicker, smaller version of TBO. Same timbre, same great sound, but a more economic, no fat version that can be useful when you need to work on a smaller budget. Still, it's a big one!

Vertikal Jazz / Pop

– The Vertikal is a upright piano recorded and designed to do the job when you need that little extra "umpf" in your songs.

WG Jr

– Based on the same samples as the famous White Grand we have managed to make a smaller version that has the sound and playability that makes the White Grand so grand – in short: a little brother with a lot of attitude!!!!

White Grand

– SampleTekks White Grand – The Ultimate Studio Grand Piano.

White Sister

– The White Grand by SampleTekk is by many musicians and composers believed to be the finest contemporary studio rock/pop/jazz Grand Piano.
The SampleTekk acoustic piano libraries are available at 25% discount until February 18th, 2011.
More information: SampleTekk