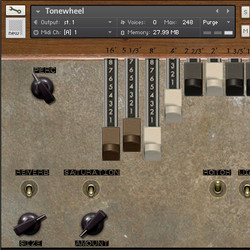 SampleTekk has announced a sale on its Organ libraries, offering a 60% discount for 2 days only.
Organ Special Sale
ST Tonewheel —Welcome to the Tonewheel experience – The Draw-Bar is open! If this organ was a date, it wouldn't be the one you presented to your mother – this is the one you would PARTY with! It's only rock'n'roll but I'll think you'll like it.
Pump Organ — The Pump Organ. A small organ where air is pumped using your feet. Common in small chapels and schools 40-50 years ago. A small, simple organ with tons of charm! Nothing you would play the Toccata on, but try some Tom Waits songs!
PMI Positif — A small positif organ, chramitically sampled with release samples. 5 registrations: flute, holpipe, quint, flute and holpipe and tutti.
PMI Baroque Organ — A complete church organ for your computer! The first organ library with every single stop chromatically sampled as well as the most useful combinations. All individual stops and all useful combinations of stops have been sampled which makes it possible to play every possible combination of stops with one single library, all from one computer. PMI Giga Organ brings you a stunning replica of a beautiful church organ.
PMI Accordions — Post Accordions is the largest and most versatile collection of Accordion samples ever sampled.
The sale ends September 4th, 2013.
More information: SampleTekk