SampleTekk has launched a 3 day sale on selected sample libraries.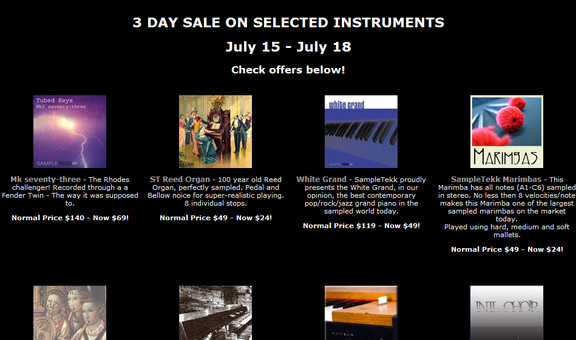 SampleTekk Sale
Mk seventy-three – The Rhodes challenger! Recorded through a a Fender Twin – The way it was supposed to. Normal Price $140 – Now $69!
ST Reed Organ – 100 year old Reed Organ, perfectly sampled. Pedal and Bellow noice for super-realistic playing. 8 individual stops. Normal Price $49 – Now $24!
White Grand – SampleTekk proudly presents the White Grand, in our opinion, the best contemporary pop/rock/jazz grand piano in the sampled world today. Normal Price $119 – Now $49!
SampleTekk Marimbas – This Marimba has all notes (A1-C6) sampled in stereo. No less then 8 velocities/note makes this Marimba one of the largest sampled marimbas on the market today. Played using hard, medium and soft mallets. Normal Price $49 – Now $24!
Renaissance Flutes – A complete set of recorders, Bass, Alto, Tenor, Soprano and Sopranino, beautifully played by one of Sweden's top flutists. Normal Price $119 – Now $49!
ToneWheel – Welcome to the Tonewheel experience – The Draw-Bar is open! If this organ was a date, it wouldn't be the one you presented to your mother – this is the one you would PARTY with! It's only rock'n'roll but I'll think you'll like it…… Normal Price $49 – Now $24!
ST Clav – Hohner Clavinet D6 ©, has for years been putting the onk in funk, but with it's distinct timbre, unique design and great respons, it's been a tonal tool for musicians in many genres. It is really a staple instrument for the keyboard player. Normal Price $49 – Now $24!
INIL Choir – Original voices from 10CC's seminal production "I'm Not In Love". Released in cooperation with Eric Stewart. Normal Price $49 – Now $24!
The sale ends July 18th, 2014.
More information: SampleTekk