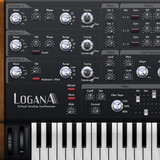 SAR VSTs has released Logana and Logana FX, two free VST plug-ins for Windows.
Logana features
3 Oscillator virtual analog synthesizer.
Osc matrix with sync, fm, pm and pwm.
ADSR modulation envelope for oscs 1 & 2 and pw.
Noise module with level and color.
LFO for pitch/pw, oscillator selector.
Filter with ADSR, 12/24/36dB filter slope.
Amplitude envelope and output control.
GUI by Limeflavour.
Logana is available to download as a freeware VST instrument plug-in for Windows PC. A separate Logana FX plug-in featuring a delay, chorus and phaser is included in the download.