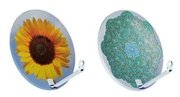 SatelliteDishSticker.com is selling some stickers to beautify your satellite dish.
While the idea is great, the current designs look quite horrible to me.
They should do some wall type designs so that you can actually hide the dish. Some more inspirational designs are available.
The 45 cm Sunflower Dish and Turkish Dish designs are available for 35,- EUR from the SatelliteDishSticker website.