Plugin Boutique has launched an exclusive sale on three Kontakt instrument libraries by Soundiron, offering a 20% discount through the month of October.
Holy Ambiences ($12 USD) is an ambient synth pad, evolving soundscape and sound-designed ambient sample library for composers and sound artists.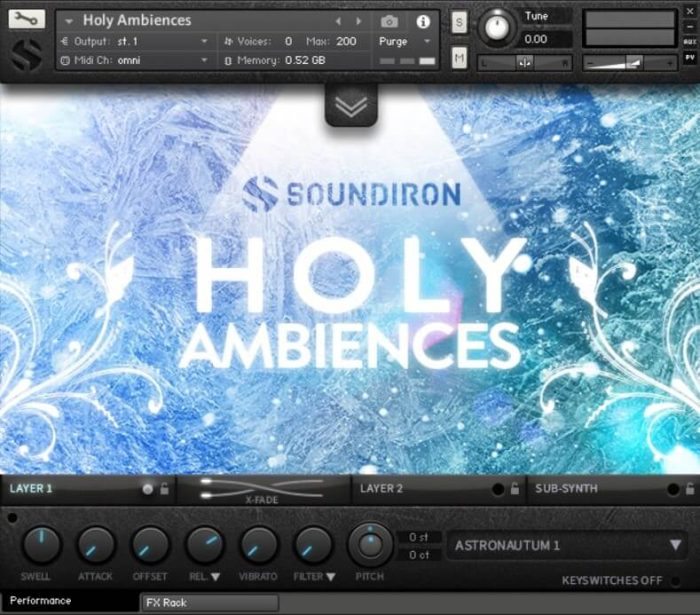 It captures a wintery, icy mood with shimmering and sparkling textures, lush mystical backgrounds, warm musical patches and a mysterious vibe. We originally created it as the perfect little companion library for winter and holiday-themed music and sound design production, but it has grown over the years into an all-around cosmic synth and instrumental ambient patch collection that comes in handy in all kinds of musical genres.

There are 18 sound categories, filled with long one-shot sounds and infinitely looping sustains. These hand-crafted sounds are rich in detail and full of unique flavor. Most are strongly tonal, while others are clustery or abstract. They're all designed to sound great played at their root pitch or retuned anywhere across the entire key range.
Shudder ($31.20 USD) brings 501 uniquely mangled, destroyed, deep, nightmarish and glitched percussive samples – along with FX, stingers, risers, and all the drones you'll need for your next horror soundtrack.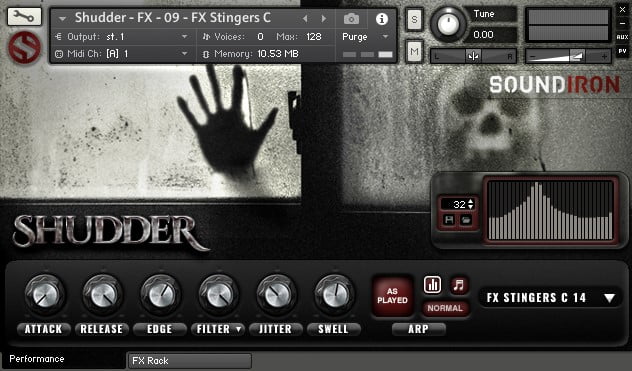 Each sound has been designed using hard-hitting sources like our industry-revered Apocalypse Percussion and Temple Drums, as well as hauntingly corrupted noise makers, analog synth drones, bones breaking (vegetables), terrifying screeching metals, and much more.

Shudder is perfect for scoring horror, or adding a touch of grunge to any production. It's also great for sound design, particularly ambient and environmental horror.
Sonespheres Vol. 1 – Distance ($47.20 USD) features uniquely sound-designed atmospheric synths, textural pads, evolving soundscapes, nuanced drones and tonal ambiences by Blake Ewing.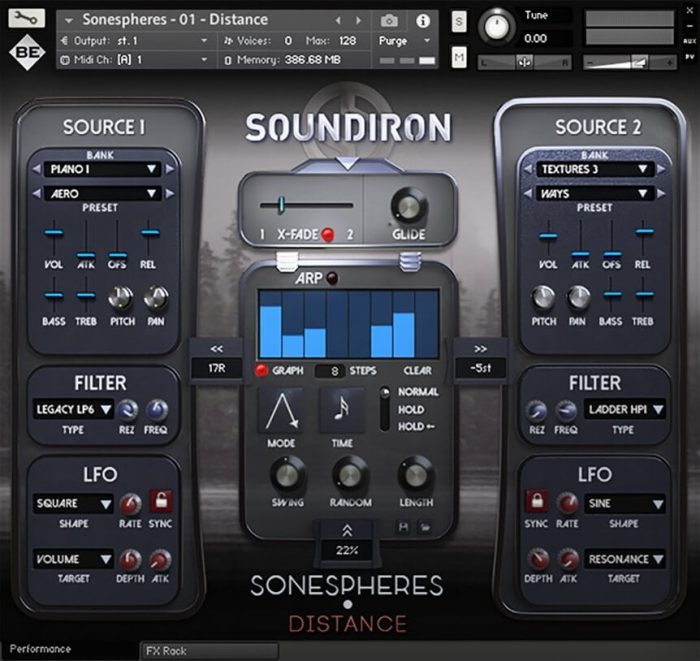 Each of the sounds in this library have been created by hand and carefully guided with a very clear artistic vision. He brings to his craft a brilliant ear for nuanced layering, rich detail, fluid textures and powerful emotional weight. Blake is an American composer with a concentrated interest in creating music for visual media.

His compositions have been commissioned, licensed and well received by film directors, producers, videographers, sample developers, advertising firms, music supervisors and fans from around the world. He believes in music – and in its wonderful power to support and elevate storytelling.
The offer expires November 1st, 2019.
More information: Soundiron