Plugin Boutique is offering a 30% discount on Sonic Faction's inspiring and creative range of Max For Live Devices and Kontakt Instruments.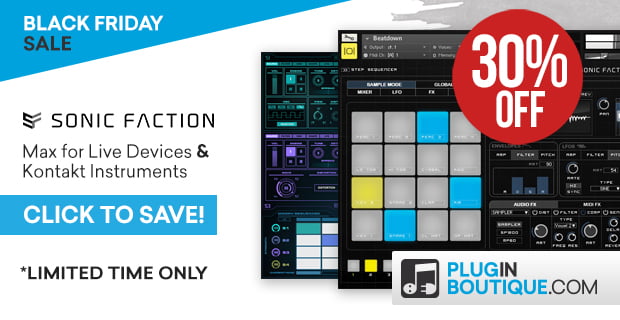 The sale includes the Archetype Kontakt Bundle, featuring 8 legendary instruments with a modern twist.
Each instrument has been meticulously sampled from the original hardware and redesigned with a fresh new look. With over 800 presets included, Archetype is capable of a vast range of musical styles. All 8 instruments sound vibrant and incredibly fat; allowing for producers, composers and sound designers to have an analog arsenal at their fingertips wherever they go.

Along with a ton of tweakable controls, every instrument also includes a built-in 8×8 grid step sequencer for creating patterns on the fly. Experience Kontakt in a whole new way with Archetype.
Also 30% off are the popular Tricky Traps creative contraptions and Hypermorph shapeshifting synthesizer for Max for Live, as well as the recently released Dope Matrix: Mod Squad, a collection of 20 enigmatic modular devices for Ableton and Max for Live.
The pack includes euro-rack inspired analog & digital oscillators, an emporium of boutique effects, mappable modulators and a Control Matrix Sequencer for hands-on control via the Push and Launchpad grid.
The sale ends November 30th, 2017.
More information: Plugin Boutique / Sonic Faction