Audio Imperia has announced its Epic Easter Sale, offering 40% off on some of its most popular Kontakt libraries such as, Talos Vol.1 Horns, Talos Vol.2 Low Brass, and Klavier Gravitas and Klavier Red Planet.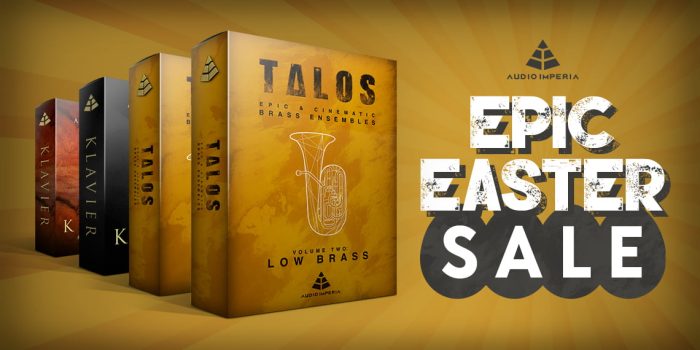 SampleLibraryReview "Top Pick" Talos Vol. 1: "THE LIBRARY if you just need the best 12 Horns legato that money can buy without hiring 12 Horn players! This one is definitely another SampleLibraryReview.com Top Pick!"

MusicTech "Choice Award" Winner Talos Vol.2: "There is no doubt that Talos Volume 2 packs one hell of a punch in the low-brass register, and at this price, it's something of a no-brainer."

SampleLibraryReview: "The Klavier Bundle is a great set of instruments for those looking to get a top-quality epic trailer piano and guitar tone. The sound is lush, spacious and rich in tone. I can also see how using these libraries for underscore make them extremely useful tools – just pull up one of the Klaviers and quickly get a sound that would have otherwise taken precious time to sculpt."
The sale is available through Friday April 27th, 2019.
More information: Audio Imperia