Plugin Boutique is offering 50% off four Meldaproduction effect plugins as part of the Eternal Madness Sale.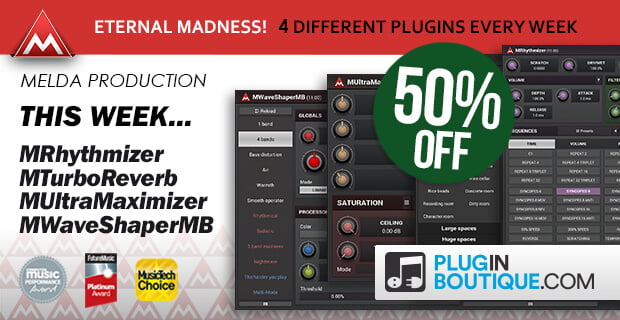 MTurboReverb is a revolutionary algorithmic reverb, which features about 100 superb sounding reverbs in a single plugin and even lets you design your own reverb algorithms. It is quick, easy-to-use, perfect for mixing, mastering and creative production.
MRhythmizer is a unique time manipulation effect that uses an integrated sequencer to control time, volume and filters. From gating to glitching, repeating to scratching, all with stunning audio quality. MRhythmizer brings your music to life, so say goodbye to boring audio performances!
MUltraMaximizer is a fatal weapon that lets you win the loudness war and is affordable to everyone! Using a few controls MUltraMaximizer can basically do the limiting for you with outstanding quality. It is a simplified, extremely easy-to-use and cheap alternative to MMultiBandLimiter, one of the most advanced multiband limiters in the world.
MWaveShaperMB is a powerful multiband wave-shaping plugin that literally lets you draw your own signal graph. This makes it the perfect solution for creating various kinds of distortion and even complicated modulated effects that you haven't even dreamed of… yet.
The sale ends April 2nd, 2018.
More information: Meldaproduction