Plugin Boutique has welcomed Virtual Guitarist with a 50% off introductory/Black Friday Sale.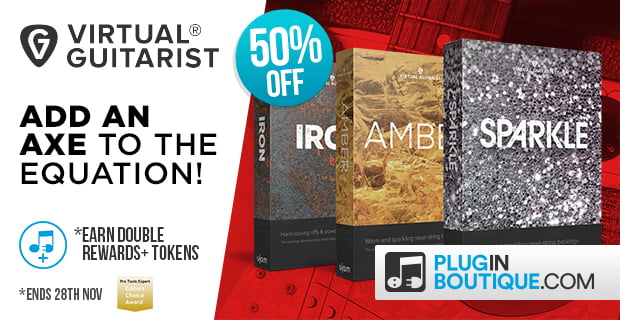 Virtual Guitarist was brought back to life in December 2016 by a team featuring many creators of the original Virtual Guitarist plugin from 2002 – amongst others the musical masterminds and virtual instrument pioneers Peter Gorges and Paul Kellett.

Virtual Guitarist was the first and best-selling virtual instrument that brought realistic-sounding rhythm guitar tracks to computer based musicians worldwide. Now the core team behind the original Virtual Guitarist has re-united to build a new generation of virtual instruments that don't rest on the success of the past, but continue innovating with vastly increased realism, flexibility and sound quality, thanks to an entirely new technology and content concept.
Virtual Guitarist Amber, Iron and Sparkle, as well as the bundle of all three instruments, is 50% off until November 29th, 2016.
More information: Plugin Boutique / Virtual Guitarist