Plugin Boutique has launched a sale on AIR Music Technology, offering a 60% discount on selected plugins for a limited time.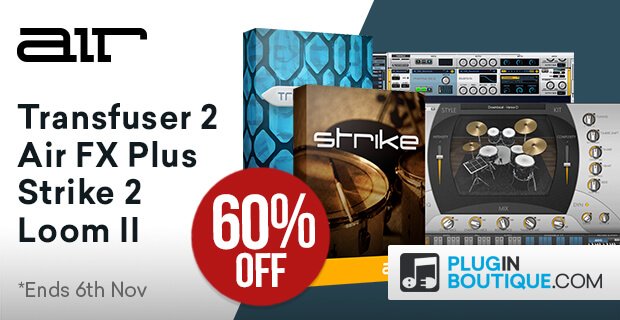 The sale includes:
Loom 2, an award-winning modular additive synthesizer with a shape-shifting Morph Pad that makes it easy to create rich, swirling and captivating sounds.
Transfuser 2, a dynamic audio/MIDI environment for manipulating, slicing, and remixing your loops and sounds into something entirely new.
Strike 2, a dynamic drum and arranger instrument that features a world-class sample library and a hyper-realistic performance engine.
Creative FX Collection Plus, an exclusive and diverse collection that provides all you need for creative production, mixing and mastering, including reverbs, compressors, equalizers, delays, filters and so much more.
The offer expires November 7th, 2018.
More information: AIR Music Technology