Audio Plugin Deals has a launched a sale on the Ultimate Vocal Bundle, a collection of 5 sample libraries from Zero-G at over 70% off.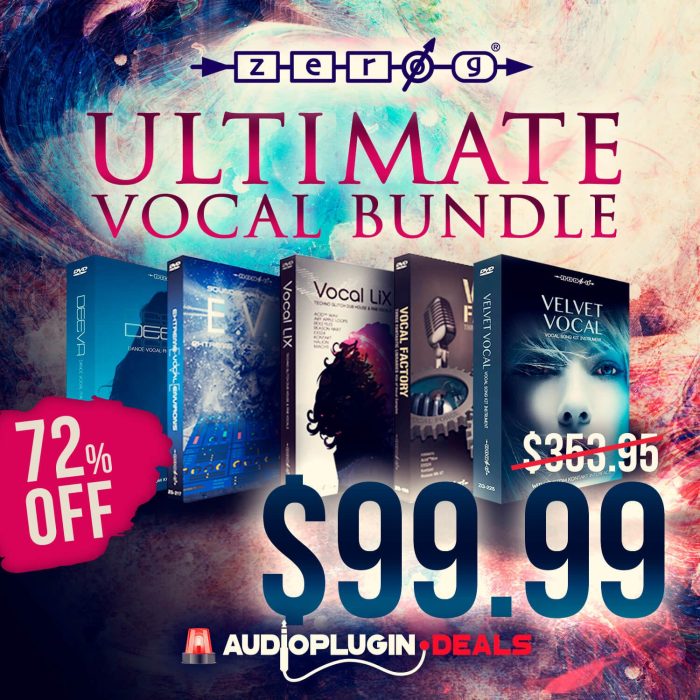 The bundle comes with over 4.850 HD WAV files and 860 Kontakt Instruments, with easy controls and fully automated MIDI controllers.
This epic bundle features the Ultimate Vocal Bundle comprising 5 epic vocal libraries built for Kontakt that deliver an unparalleled value for money, and nearly every kind of vocal sample and style you'll ever need!
The bundle includes:
DEEVA, a stunning new dance and R'n'B vocal phrase Kontakt instrument that combines over 650 amazing female vocal samples, incredible simplicity and a high degree of playability all packed into a beautiful Kontakt interface for total ease-of use and ultimate sound manipulation.
Extreme Vocal Environments (EVE), a highly creative sample-based sound design tool that uses the human voice as its start point to create soundscapes and ambiences to inspire musicians and sound designers alike.
Velvet Vocal, a fantastic vocal Kontakt instrument* that combines over 500 vocal samples. The producer has enlisted a variety of very talented female downtempo vocalists to produce a collection of mellow leftfield vocals, giving this library a fantastic diversity and usability in most genres of music.
Vocal Factory, three separate libraries in one. Incorporating the critically acclaimed Vocal Forge and Vocal Foundry together with a brand new library, Vocal India.
Vocal Lix, a veritable cornucopia of dance oriented vocals. First off, there is a killer collection of glitched, tweaked and processed vocal samples. Next, are a pile of house & RnB inspired licks, lead hooks, harmonies, and more.

 Finally, there is the best in authentic dub and ragga vocals straight from three of Jamaica's top vocal artists.
Normally valued at $353.95 USD, the bundle is now offered for just $99.99 USD until October 3rd, 2018. A purchase includes $20 USD in Rewards for use in the APD Shop.
More information: Audio Plugin Deals