Audio Plugin Deals has launched a new deal, offering over 80% off on the Precisiounsound European Bundle, a collection of 10 deep-sampled European instruments.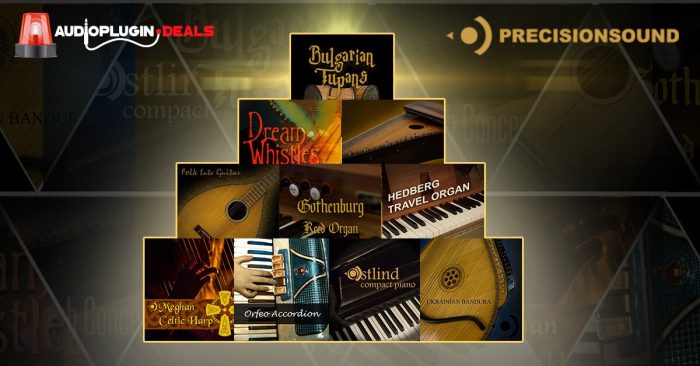 The collection includes a concert kantele, bandura, whistles, lute, reed organ, piano, tupan, harp, accordion, and harmonium.
For just $99, get the PRECISIONSOUND European bundle featuring 10 deeply sampled libraries in one package – for a limited time only. These libraries are suitable for scoring fantasy, new age, ethnic and lots more. Many of the instruments are also compatible with EXS24, HALION and SOUNDFONT. This massive deal is available only until October 18th. Don't miss out!
European Bundle features
11GB library of deeply sampled European instruments:

Finnish Concert Kantele — The Finnish Concert Kantele is a 36 stringed, A#0-A#5 concert Kantele recorded in stereo in 4 velocity layers and 4 round robin layers per velocity layer.
Ukrainian Bandura — The Bandura is the national instrument of Ukraine. We have sampled a 55-string Bandura made by the Chernihiv factory in the -1980-ties.
Dream Whistles — The sound sources for Dream Whistles are five wooden recorders of different sizes — they are bass, alto, tenor soprano, and sopranino.
Folk Lute Guitar — The Folk Lute Guitar has a round resonant body and nylon strings on a short neck. It has both bite and weight, making it ideal for ballads, folk songs and classical guitar pieces.
Gothenburg Reed Organ — The Gothenburg Reed Organ is a midsize chamber organ with suction air made by "Göteborgs Orgelfabrik".
Ostlind Compact Piano — Ostlind is a small compact piano 5 octaves with natural detune and full of charm.
Bulgarian Tupans — A large double-headed drum often used in Bulgarian folk music, the tupan is capable of everything from powerful bass rumbles to cutting high end strikes.
MEGHAN Celtic Harp — The MEGHAN Celtic Harp is the biggest and most resonant Celtic Harp in the "family" with 36 strings and a 5 octave range.
Orfeo Accordion — Orfeo Accordion is a Multisampled Italian accordion from the 1950s with 5 registers and a separate noise program. All registers have been sampled with belly in/out for all notes, and with release samples.
Hedberg Travel Organ — The Hedberg Travel Organ is a 4 octave Swedish folding harmonium made in Enskede, Stockholm, Sweden, around 1950 by "Hugo Hedberg".

Suitable for scoring fantasy, new age, ethnic and lots more.
Many of the instruments are also compatible with EXS24, HALION and SOUNDFONT.
All instruments require full version of Kontakt.
The bundle is on sale for just $99.99 USD until October 18th, 2017 (regular value $550 USD).
More information: Audio Plugin Deals