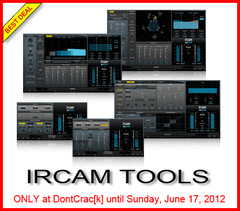 DontCrack has announced an exclusive offer on all IRCAM Tools products.
The award winning IRCAM TOOLS technology (powered by FLUX) is the result of over 20 years of high-end audio research. It is a POWERHOUSE toolset, full of creativity, available until now only to hi-end users who could afford the price for such amazing tools.

Effective immediately, the folks at DontCrack are making these incredible tools available to all via a time limited promotion that surely will be of huge interest to many producers, musicians and artists alike.
IRCAM Tools Sale
IRCAM TOOLS Bundle, including SPAT – $699 (MSRP $1599)
IRCAM SPAT, including VERB and TRAX – $599 (MSRP $1379)
IRCAM VERB – $349 (MSRP $779)
IRCAM TRAX – $199 (MSRP $419)
IRCAM VERB SESSION – $99 (MSRP $209)
The sale is available until June 17th, 2012.
More information: DontCrac[k]