Plugin Boutique has launched an exclusive sale on K-Devices, offering up to 40% off on Max for Live devices for a limited time only.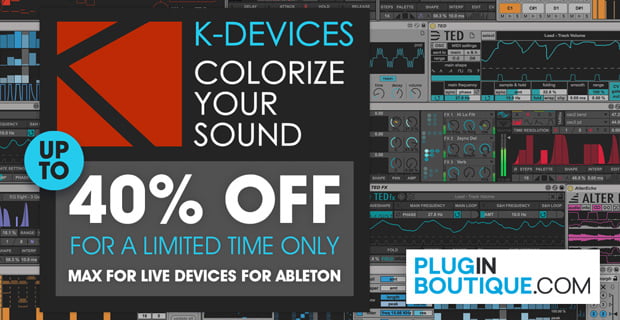 Founded in 2010 by France-based Italian composer Alessio Santini, K-Devices is focused on light CPU usage, smart user interfaces and ease of use.
K-Devices products include:
REF envelope follower.
TED and TED FX function generator and LFO with CV/gate output.
TERRA polyphonic synthesizer.
Twistor advanced step sequencer modulator.
Shaper smart audio destroyer.
MOOR unique monophonic step sequencer.
TIP pattern based modulator.
Alter Echo creative delay.
Holder spectral freezer.
EXT3 modular & envelope generator.
AutoBeat probability-based pattern generator.
Herse audio effect designed to rearrange and process audio.
The sale ends April 3rd, 2018.
More information: K-Devices