The Complete Guide to Massive by Rob Jones features 3 hours of tutorials that take you from the very beginning right through to advanced sound design. The course explains all of the synthesizing technology included in the powerful, cutting-edge Massive synthesizer by Native Instruments.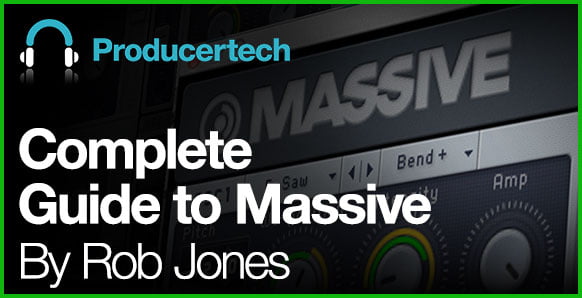 The course delves into all the main stages of subtractive synthesis, covering the oscillators, filters, modulators and global and insert FX. After all of the synth sections have been explored, there are some lessons on preset making, combining all of the techniques into some practical examples to help students put everything into context.

The course is presented in a series of online videos, with accompanying written notes and Massive presets to work to, as well as 100 additional Massive presets from Loopmasters. Don't miss out on this essential guide to synthesis and sound design for one of the most popular synths on the market today!
In Precision Drum and Bass Construction in Maschine, producer Icicle aka Jeroen Snik gives you insight into his methodical approach to drum and bass production and sound design in Native Instruments Maschine.
Constructing a track from the initial sound design through to arrangement and mastering, you'll learn professional techniques from one of the world's most technically-minded DnB producers.

Starting with the core elements, Icicle designs the drum parts, giving a thorough explanation of Maschine's different drum engines, before creating an entirely original drum sample to slice and resequence. Next, he creates the bass, taking great care to carve a hole for the drums using specific processing techniques. Moving onto the leads and pads, Icicle precisely contours the sound to express his musical idea before moving on to arranging and mastering the track.

Throughout the course, Icicle demonstrates how he integrates the Maschine hardware to give him immediate, hands-on control of the many parameters available in Maschine.
Finally, in Producer's Guide to Music Theory with Maschine, Rob Jones gives Maschine users more knowledge on the theoretical side of music. The course will help you understand how to create basslines, chord sequences and other musical parts in a particular key.
Created by accomplished music producer and classically trained musician, Rob Jones, the course begins by explaining the principles of the key of a song and what major and minor scales are, before showing how that knowledge can be used to make melodies or riffs using various intervals and chords, in order to produce basslines, a main hook, lead or pad sound, to create the main groove or form the breakdown of a track.

As well as showing many examples of all of the techniques taught, which are outlined in the written notes and saved into the Maschine project files that come with the course, there are also exercise projects, for practicing identifying keys and making basslines or chord sequences, to put your newly acquired skills to the test.
The sale ends May 24th, 2017.
More information: Loopmasters / Producertech sale