Plugin Boutique has launched a sale on Metric Halo, offering up to 61% off on its effect plugins and the Metric Halo Production Bundle.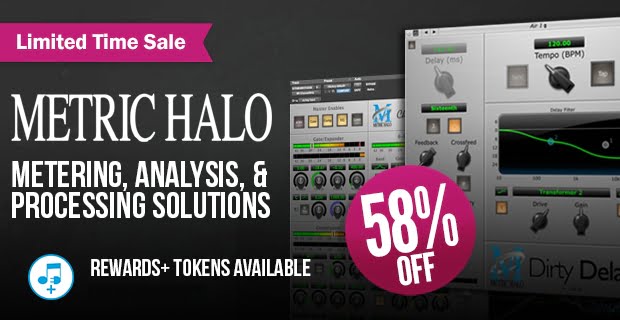 Multi-award winning metering, analysis and processing software giants Metric Halo are currently offering their software for 58% off in our store.
Metric Halo Sale
Metric Halo Production Bundle offers all the critical tools you need to shape, tame, manipulate, and master your tracks: ChannelStrip 3, Character, HaloVerb, Dirty Delay, Precision DeEsser, Multiband Dynamics, Multiband Expander, and TransientControl.
Multiband Expander allows you to manage, suppress and control noise in your tracks in a frequency-sensitive way.
ChannelStrip 3 is like having the channel strip section of a large format console – with a few awesome Metric Halo twists!
Character lets you add the luscious distortion characteristics of classic analog circuits to your source tracks.
HaloVerb allows you to add ambience and depth to your recordings.
Multiband Dynamics allows you to add clarity, warmth and punch to your mix.
Precision DeEsser allows you to manipulate your tracks and remove excessive high frequency content.
Dirty Delay is a fantastic-sounding feedback delay processor with integrated Character and Filters in the delay path.
The sale ends January 31st, 2017.
More information: Plugin Boutique