Plugin Boutique has announced a limited time sale on the Loom II and Loom award-winning modular additive synthesizer instruments by AIR Music Technology.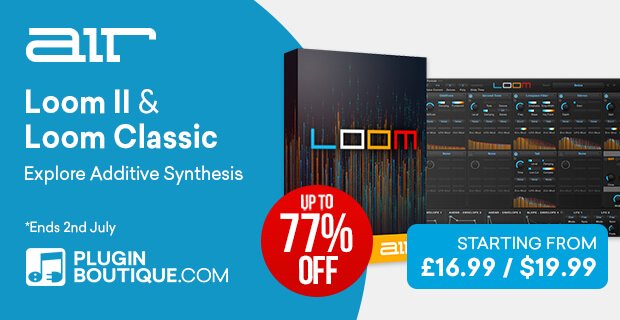 Loom is an award-winning modular additive synthesizer with a shape-shifting Morph Pad that makes it easy to create rich, swirling, and captivating sounds.
Loom takes a unique modular approach to additive synthesis, a synthesis technique that involves combining simple waveforms together to create complex sounds, by allowing anyone to select from and combine 30 editable modules. Create anything from wobbles, ethereal pads, ambient soundscapes, and much more. The programmable Morph Pad brings your Loom patches to life by morphing between user-defined variations of your patch, adding motion and momentum that continues to evolve.
Loom II is a major upgrade to the original, pushing the boundaries of additive synthesis. Loom II is ideal for all skill levels. Whether you're starting out and just experimenting in this space or you're a bonafide expert, the instrument grows with you.
Loom is on sale for $19 USD, Loom II is $29 USD until July 2nd, 2019.
More information: AIR Music Technology