Plugin Boutique has announced a Black Friday sale on selected iZotope Bundles, with discounts of up to 90% off plugin collections.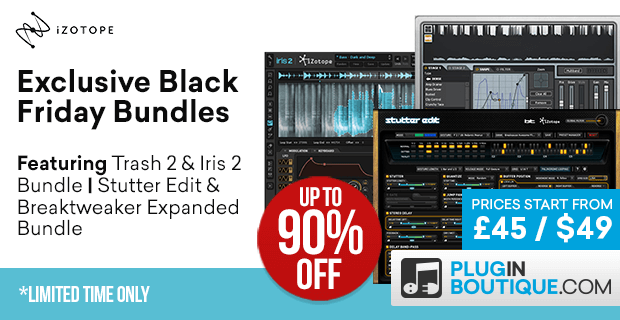 On sale for $49 USD, the Stutter Edit & BreakTweaker Expanded Bundle offers unlimited drum programming and manipulation possibilities.
Combining two of iZotopes award winning creative tools, this innovative and dynamic package has been compiled to inspire new directions for your drum sound!
Also $49 USD is the Trash2 & Iris 2 Bundle, comprising a distortion unit and sample-based synth in a limited time exclusive value bundle.
This Black Friday, we have combined two of iZotope's famed production tools in one unique bundle. With Trash2, distort, mangle and transform your sounds in new, unique ways, whilst developing incredible sounds with the inspiring sample-based synthesizer, Iris 2.
Lastly, the iZotope Creative Suite is on sale at 50% off, priced at $249 USD.
The bundle features seven innovative and inspiring software tools to invigorate your music productions and help them stand out: VocalSynth 2, Iris 2, Trash 2 Expanded, BreakTweaker Expanded, Stutter Edit, DDLY, and Mobius Filter.
This unique collection of creative products is designed to inspire, elevate, and aid exploration in your music. Make beats, design synths, add texture, and find your sound with the iZotope Creative Suite.
The offers expire December 3rd, 2018.
More information: iZotope