The Loop Loft has launched a new round of Weekend Specials, offering a discount of up to 90% on selected sample packs and bundles.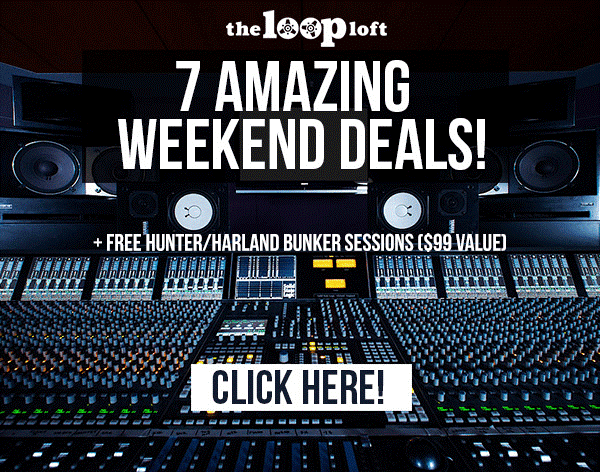 Save up to 90% on these 7 hand-picked collections + receive The Hunter/Harland Bunker Sessions Vol 3 ($99.00 value) for FREE at checkout!
Weekend Specials
MIDI Drum Loop Bundle – We've bundled all 28 of our popular MIDI Drum Loop sessions, providing you with a massive range of the authentic and unique grooves that The Loop Loft is known for.
All-Star Multitrack Drum Sessions Bundle – With over 46 GB of multitrack sessions from drumming legends Omar Hakim (Sting, Daft Punk), Simon Phillips (The Who, Toto), Matt Chamberlain (The Wallflowers, Fiona Apple) and Joey Waronker (Beck, R.E.M., Atoms for Peace), this bundle contains 79 unique multitrack drum sessions, allowing you to simply drag and drop grooves to create your own arrangements in seconds.
Everything But Sticks Bundle – By using a wide variety of brushes, mallets, bundles, kitchen utensils and even our bare hands, we were able to pull out an entire range of timbres and dynamics from the drum kit that sticks simply can't produce.
Terence Higgins – Greasy Grooves – When you want grooves to sound and feel as authentic as possible, sometimes you have to travel directly to the source. This is what brought The Loop Loft down to New Orleans to record local drumming phenom, Terence Higgins.
Dry Drums Bundle – With The Dry Drums Bundle we give you this classic sound served up in twenty-four complete loop sessions and a variety of meticulously sampled drum kits.
Drum Direktor From The Garage – To produce the sounds and loops featured in this latest version of Drum Direktor, we literally opened the doors to our garage and recorded everything in sight.
Bundle of Brushes – From jazz, to roots rock, to blues, to funk, this bundle of brush loops will supply you with the grooves and sounds you need to produce authentic, warm, and unique sounding drum tracks.
The sale ends March 27th, 2017.
More information: The Loop Loft / Weekend Specials