The Loop Loft has launched another round of Weekend Deals, offering up to 90% off selected products for a limited time only.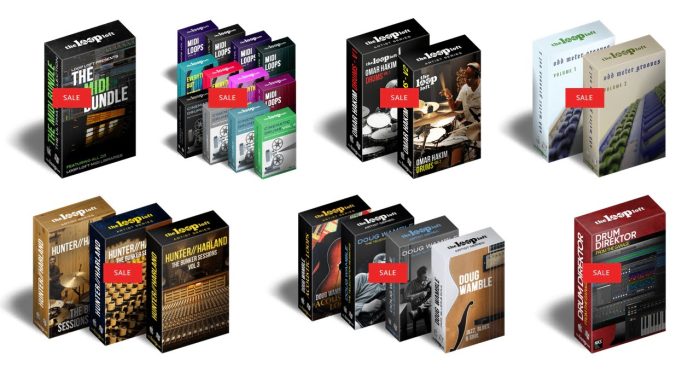 Want drums and samples that will cut through any mix? Receive our acclaimed Dry Drums Vol 5 for FREE ($49.00 value) with any purchase this weekend.
Weekend Deals
MIDI Drum Loop Bundle – We've bundled all 28 of our popular MIDI Drum Loop sessions, providing you with a massive range of the authentic and unique grooves that The Loop Loft is known for.
The Composer Bundle – The Composer Bundle is the ultimate collection of inspiring drum loops & samples for creative production – all at a 90% bundled savings (offer ends soon).
Omar Hakim Drums Bundle – This massive bundle features 467 unique grooves, fills and breakdowns in a variety of styles including funk, hip hop, fusion, rock, cinematic and pop.
Odd Meter Bundle – Are you tired of recording with the same old boring loops in 4/4? Do your compositions require something beyond "boom, thunk, boom-boom, thunk"? Well, look no further.
Hunter/Harland Bunker Sessions Bundle – Two modern-day legends. One amazing recording studio. Thousands of incredibly soulful, funky and "live" grooves recorded by Charlie Hunter and Eric Harland. The Bunker Sessions Bundle brings together all 3 volumes of this critically acclaimed series (over 13 gigabytes of content with the Deluxe Edition).
Doug Wamble Guitar Bundle – Included in the bundle are the popular Jazz Blues & Soul, The Slide Guitar Collection, Acoustic Guitar and The Telecaster Sessions, supplying you with a vast range of Wamble's incredible guitar playing that touches on everything from blues, funk, jazz, soul, country and rock.
Drum Direktor From The Garage – The bar on drum plugins has just been raised. Introducing the all new Drum Direktor "From The Garage". Completely redesigned (leveraging the newly expanded user interface for Kontakt), Drum Direktor brings together sampling, looping and step sequencing together in a drum instrument unlike anything else.
The sale ends February 12th.
More information: The Loop Loft / Weekend Deals