Plugin Boutique has announced a sale on the Scaler 2 inspirational and powerful music theory workstation that gives you access to a world of new ideas, expressions and melodies.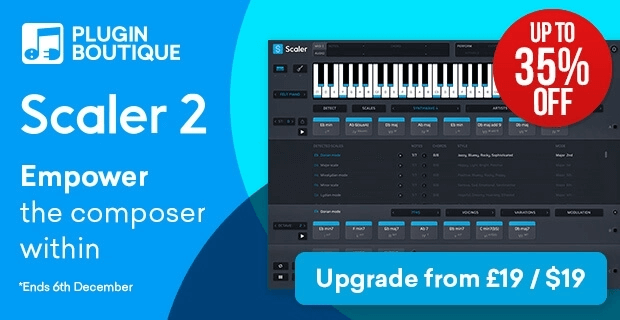 The recent version 2.1 update of Scaler 2 includes a new Chord Edit Mode, 100+ new Performances, Phrases and Rhythms, improved audio detection, and much more.
With powerful detection of MIDI and audio, Scaler 2 can determine what key and scale you're in and suggest chords that match your music.

The plugin helps you discover the perfect melody with performance expressions, and can even suggest ways to change from one key to another.
Available in VST/VST3, AU and AAX formats, Scaler 2 is on sale for $49 USD. Scaler users can upgrade for $19 USD during the promotion.
Two bundles are also discounted:
Scaler 2+ Bundle ($65 USD) includes the Producer's Guide to Scaler 2 by Producertech.
Scaler 2+ Advanced Bundle ($79 USD) includes the Producer's Guide to Scaler 2 and the Advanced Guide to Music Theory for Producers.
The offer expires December 6th, 2020.
More information: Plugin Boutique