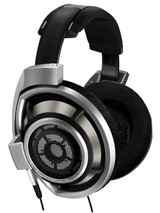 Sennheiser has presented its new top-of-the-range HD 800 headphones at the Winter NAMM.
More than 60 years of ingenious headphone engineering has been applied into the new HD 800. Incorporating Sennheiser's most advanced driver technology, these open, circum-aural dynamic stereo headphones redefine what reference-level audio is all about. You will form an altogether new height of sonic perspective as you experience a high-fidelity natural hearing experience. Do take note that presently, no other manufacturer has been able to come up as close as the HD 800 in replicating the basic acoustic conditions of natural hearing.
HD 800 features
New reference class in wired headphones
Open, circum-aural dynamic stereo headphones
Natural hearing experience – realistic and natural sound field with minimal resonance
Biggest transducers ever used in headphones up to today – new innovative dynamic transducer design
Uncovered earcups for acoustic and stylistic reasons
Ear pads made of special high-quality Japanese Alcantara
Metal headband with inner damping element
Specially tuned symmetrical, impedance matching cable with low capacitance
Special high precision headphone connectors
2 year warranty
The Audiophile HD 800 headphones will have an MSRP of $1,399.95.
Visit Sennheiser for more information.