Sensel has announced its partnership with Buchla and the launch of the Buchla Thunder Overlay for the Sensel Morph.
Sensel's patented Pressure Grid Technology and overlays transform the Morph to meet users' growing needs. Created in collaboration with Buchla USA, the Thunder Overlay brings new levels of tactile expression to a wide audience of musicians and creatives 30 years after Don Buchla introduced the groundbreaking Thunder instrument.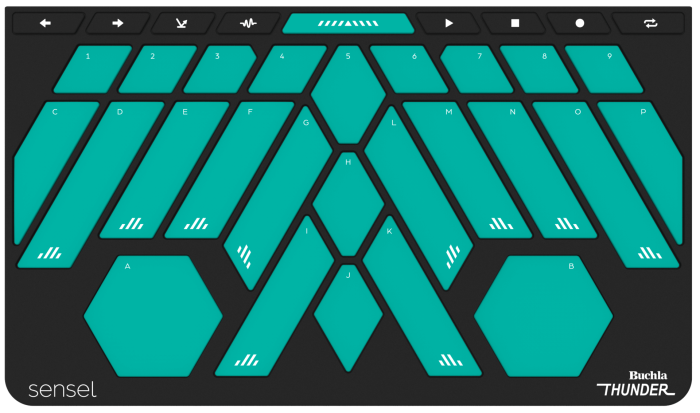 Each of the 27 areas of the Buchla Thunder Overlay transmits a dedicated note and can be used with any instrument that accepts MIDI input. The technology can go even further with the growing number of instruments that support MIDI Polyphonic Expression (MPE).
With MPE, each individual note of an instrument has its own values for velocity (initial touch force), pressure, pitch bend (based on the horizontal or x-position), timbre or slide (based on the vertical or y-position), and liftoff (how quickly the finger is lifted) – allowing for playing of electronic instruments that rivals, and even surpasses, the expressive qualities of classic acoustic instruments.
"Buchla is about inspiring creative music making, we hope this stunning new overlay does just that," says Joel Davel, Buchla's lead designer and engineer. "The ergonomic, artistic, and outside-the-box layout of the Thunder makes full use of the Morph's advanced sensor, and introduces Don's one of Don's signature designs to musicians with a minimum of investment."

"We're thrilled to bring a legendary and rare control interface to the Morph, in tandem with the creative minds at Buchla," said Sensel co-founder and CEO Ilya Rosenberg. "We're invested in the cutting-edge of creative and expressive technology, and can't think of a better partner to work with on this front."
The Buchla Thunder gets a modern update when combined with the sensitive and accurate Sensel Morph. The ergonomic design, combined with the Morph's unprecedented force sensitivity, push forward Buchla's legacy of instruments that combine the expressiveness of acoustic playing with electronic instrumentation.
Adding this retro interface to cutting-edge pressure grid technology and the Morph's existing overlays empowers creative artists to experience new ways of playing music, without compromising their existing practice and work.
Sensel will be doing demos with the Buchla Thunder Overlay and the Sensel Morph at NAMM 2019. The Buchla Thunder Overlay will be available for $59 USD and as a bundle with the Sensel Morph for $269 USD in April 2019.
Pre-orders for the Buchla Thunder Overlay are available now in the Sensel web store.
More information: Sensel