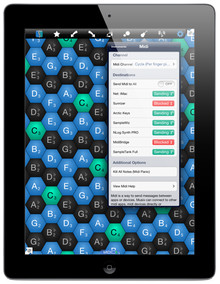 Shiverware has announced the release of Musix Pro, a new iOS musical instrument.
Musix Pro is the successor to Musix, a revolutionary instrument and control surface for the iPad/iPhone. The unique hexagonal or rectangular note layouts allows newcomers to learn how to play music much faster than conventional instruments; while giving experienced musicians a fresh look on music and harmony which sparks creativity.

Audio can be generated with built-in instruments, or with external synthesizers via Core Midi or OSC. Musix Pro allows the user to arrange the notes of the scale to be like a piano, an accordion, a concertina, or a guitar. The most common layouts such as Wicki-Hayden, Janko, Harmonic Table and Linnstrument are all included as presets, and you can build your own layouts. When you combine Musix Pro with apps such as Samplewiz, NLog Synth Pro, Arctic Keys or Sunrizer, the possibilities are endless.

The musical power of Musix Pro is derived from the use of isomorphic note layouts, which allow the whole screen to be filled with harmonically related notes in the shape of hexagons, rectangles or squares. The systematic layout of pitches creates a playing surface that enables the exploration of musical possibilities unavailable in traditional instruments. The end result is that a non-musical person can learn how to play every major and minor chord in under 5 minutes, which typically take weeks or years on a piano. The nature of the note layouts turns playing music into making shapes.

People love music and many people would love to play but don't have the time or patience to learn. With Musix Pro, learning to play can take much less time and be more fun and engaging.
The Musix Pro app is currently 66% off at $4.99 USD.
More information: Shiverware / Musix Pro