Shure has announced its line of Centraverse installed sound microphones, an economical complement to its existing Microflex series for the sound contracting market.
Available in gooseneck, boundary, and overhead form factors, Centraverse microphones provide quality, reliable audio and a streamlined feature set for users in price-sensitive environments. The microphones are simple to purchase, set up, and install. They meet the key needs of installed audio users by offering "plug and play" solutions for applications at corporate facilities, houses of worship, government institutions, and more.

"Budget-conscious customers requiring installed and portable applications for basic sound reinforcement, such as vocal amplification, will immediately benefit from our Centraverse line, as the product line combines best-in-class performance with simplicity and affordability," said Chad Wiggins, Category Director for Wired Microphones at Shure. "To ensure the mics are well-suited for their intended environments, we also focused on the aesthetics, designing the products with a modern and industrial style that still offers Shure's sound quality, reliability, and functionality."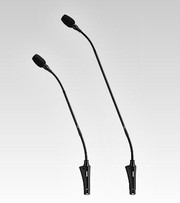 The Centraverse CVG12 and CVG18 Gooseneck Condenser Microphones are professional gooseneck electret condenser microphones that are ideally suited for use in general installed sound reinforcement applications. Designed with dual gooseneck sections for full articulation and positioning options, the CVG12/18 provide scalable, best-in-class performance in a wide variety of locations, including podiums and desktops. Additional features include:
Cardioid polar pattern with tailored response for speech
Available in 12-inch (30.4 cm) and 18-inch (45.7 cm) gooseneck lengths
Black color
Included flange mount and available snap-fit windscreens
Available in three configurations:

Inline preamp (CVG12/CVG18)
Mute switch/LED, inline preamp (CVG12S/CVG18S)
Light-ring, mute switch, inline preamp (CVG12RS/CVG18RS)
Also available is the sleek Centraverse CVD Desktop Base, compatible with all Centraverse 12-inch and 18- inch gooseneck microphones.
The Centraverse CVB Boundary Condenser Microphones are professional boundary electret condenser microphones. Designed for use in desktop-installed sound reinforcement applications, the microphones' low-profile design fits seamlessly in any room decor. Additional features:
Available in cardioid and omnidirectional polar patterns
Attached 12-foot XLR cable
Black and white color options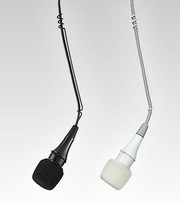 The Centraverse CVO Hanging Condenser Microphones are designed for overhead sound reinforcement applications. The mics' integrated wire aiming hanger enables optimal placement above choirs and other ensembles, with additional features including:
Cardioid pattern
Attached 25-foot XLR cable
Black and white color options
Available snap-fit windscreen
All of the microphones in the line feature Commshield interference immunity, which guards against unwanted RF interference from portable wireless devices, offering high resistance to intense nearby radio signals.
All models carry a two-year limited warranty, and will be available for purchase from select retailers in early November.
More information: Shure