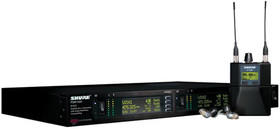 Shure has announced that the new PSM 1000 Personal Monitor System – a dual-channel, networkable, professional monitoring system – is now shipping.
"The Shure PSM 1000 Personal Monitor System outperforms other in-ear monitor systems in many ways," said Matt Engstrom, Category Director for Monitoring Products at Shure. "With best-in-class audio and RF performance, networking connectivity, and a diversity bodypack receiver, PSM 1000 delivers on the demanding requirements of sound professionals."

The PSM 1000 system builds on the stellar audio and RF performance of Shure's PSM®900 Personal Monitor System, while adding numerous advanced features.
PSM 1000 System
Ultra-wide 72 megahertz tuning bandwidth allows up to 9 systems to operate in one TV channel, and up to 39 systems in one frequency band.
Backward-compatible with PSM 900 components.
P10R Diversity Receiver
Two detachable ¼-wave antennas for exceptional freedom from dropouts.
Full bandwidth scan finds clear, compatible frequencies and provides a graphic spectrum plot viewable from the screen.
Optional rechargeable Lithium-ion batteries provide up to eight hours of operation and recharge fully in just three hours.
P10T Transmitter
Full rack, dual-channel wireless transmitter housed in a touring-grade, all-metal chassis.
Internal power supply that supports daisy-chaining.
Networked control via Ethernet that vastly simplifies setup for high channel count.
Pricing and availability:
A PSM 1000 Wireless System with two bodypack receivers and two SE425 earphones is priced at $6,381 USD.
A PSM 1000 Wireless System with two bodypack receivers but no earphones is priced at $6,069 USD.
The P10R wireless bodypack receiver and P10T wireless transmitter are available as separate components priced at $1,094 USD and $3,881 USD, respectively.
All pricing listed is MSRP and the products are now shipping. The PSM 1000 carries a two-year limited warranty and can be purchased at select retail partners.