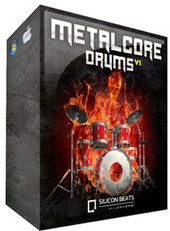 Silicon Beats has released Metalcore Drum Loops V1, of collection of 119 drum loops.
Put the 'Heavy' in your Metalcore and Death Metal tracks with 'Metalcore Drum Loops V1'. These massive stomp grooves include some tricky double kick drum licks and some nasty china crashes that you MUST use in Metalcore – it's the law.

We focused mainly on stomp grooves with a wide selection of fills and variations with closed hats, open hats, rides and crashes. We used a Yamaha Stage Custom kit that was made from mahogany which gave the drums a really bright tone that was ideal for all kinds of metal. With a tasty selection of cymbals from Istanbul, Sabian and Zildjian we managed to capture a big, trashy noise that will give your metal tracks a really live feel.
Metalcore Drum Loops V1 is available to purchase for $69.95 USD.
More information: Silicon Beats