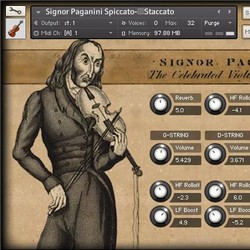 Simple Sam Samples has released Signor Paganini Solo Violin, a virtuosic solo violin library for Native Instruments Kontakt.
Signor Paganini is the only virtual solo violin that can convincingly execute extremely fast playing with ease. Unlike any other virtual solo string instrument, the Kontakt interface allows users to apply EQ controls to each individual string, creating unsurpassed abilities for tonal and timbral shaping.

Ideal for film and classical applications, Signor Paganini Solo Violin was patterned after one of the most famous Stradivari violins created: the 1727 "Paganini" Strad. Virtuoso violinist, Nicolò Paganini, purchased the instrument in 1817 for a mere $128. The instrument is now worth over 5 million dollars! Possessing a brilliant and strong tone accurately emulated by the virtual instrument, Paganini himself declared, "This violin has a tone as big as a double bass; never will I part with it as long as I live." He never did.

Featuring an extended sampled range almost an octave beyond similar solo violin sample libraries, the designers of Signor Paganini sought to retain many of the subtle nuances and "auditory cues" that define the performance of a great virtuoso violinist, from subtle attack sounds to natural releases.
Signor Paganini Solo Violin features
600 Samples (standard pcm wav).
1 .nki files (unlocked format).
105 MB installed.
24 bit / 44.1kHz stereo PCM wav format.
Format(s): Kontakt 5 .nki and pcm .wav.
The library is available to purchase for the introductory price of $14.95 USD until July 22nd, 2013 (regular $44.95 USD). Requires Kontakt v4.2.4+ full version. Kontakt 5.1+ required for some advanced features.
More information: Simple Sam Samples / Signor Paganini Solo Violin