Plugin Boutique has announced that the Sinevibes Dynamic Collection comes with a free copy of the Alternator motion synthesizer in a limited time sale.
For 10 days only you can purchase the Dynamic Collection and receive Alternator motion synthesizer for FREE!

The Dynamic Collection includes 7 of Sinevibes most fun sequenced effect plugins: Array, Cluster, Flow, Inertia, Sequential, Shift, Switch and for 10 days only Alternator for FREE!
Alternator is a monophonic synthesizer with a unique approach to sound creation – every single parameter of its engine is sequenced.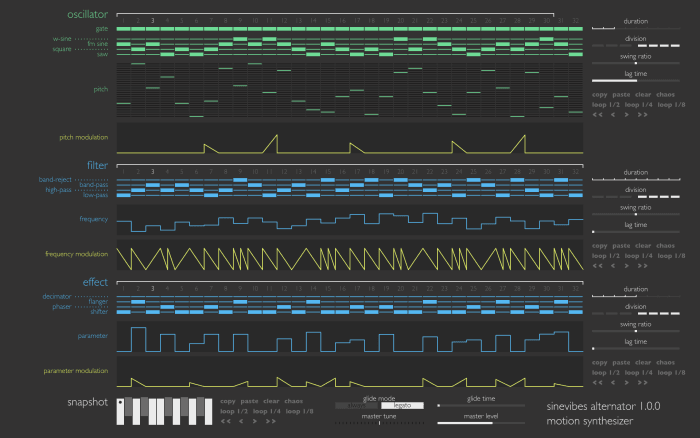 It consists of three modules – an oscillator, going into a filter, and then into an effect – but they all have their own separate step sequencers which change every property of the patch in a rhythmical fashion: oscillator waveform and pitch, modulation envelopes, even filter and effect types. Each of Alternator's sequencers has its own timing, looping and randomization features, making it unusually easy to create motion lead and bass sounds with almost never-repeating patterns.

Alternator's unique design is reflected in the user interface: all of its elements are neatly laid out on a single screen, with no tabs or menus. The sequencers have fluid color-coded graphics that reshape according to their settings, showing an exact view of what your sound composition is. In addition to this, each preset in Alternator has 12 patch snapshots that you can switch via MIDI keyboard and host automation, making it just as fun in live performance as during production.
The Sinevibes Dynamic Collection is available for Mac OS X 10.6 or later (AU). The sale ends November 13th, 2016.
More information: Plugin Boutique / Sinevibes Dynamic Collection