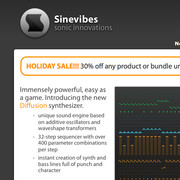 Sinevibes has announced a Holiday Sale for its AudioUnit plugins.
Until 1st January 2012, you can get any single product or bundle with 30% off the price.

"A year ago, we fully concentrated on developing innovative, fun-to-use software for Macs and since then shipped almost a dozen highly-acclaimed synthesizers and effects" – says Artemiy Pavlov, Sinevibes founder and chief developer. "We'd like to thank all of our users for their fantastic support and feedback, and this holiday season new customers can get our unique software at more affordable prices than ever before: our complete plugin collection can be had for just $125".

To apply the holiday special discount, simply use the coupon code SINE-2GTW-SALE at checkout.
More information: Sinevibes