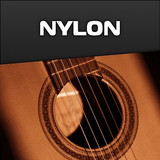 Sinevibes has announced the release of Nylon, a guitar sound expansion for Roland Fantom-G.
Nylon is a Fantom-G sound expansion solely devoted to a single instrument – a Spanish guitar with nylon strings, selected for it's unique combination of warm-bodied sound and crisp, detailed attack. It uses our very own Audio Magnifier recording technique to create a dimensional model of an acoustic instrument, complete with all it's liveliness, depth and subtle nuances. As a result, Nylon gives you the most realistic nylon guitar you can ever have on the Roland Fantom-G series.
Nylon features
Perfect sound expansion for all musicians seeking for a real, clean and airy acoustic guitar.
Recorded with custom Audio Magnifier technique featuring an array of microphones to capture organic body transients and natural variations with an unrivaled accuracy.
Different playing variations, dynamics and microphone positioning are offered through a wide variety of highly-expressive patches and live sets – plus, you can model your very own nylon guitar sounds.
The package includes 296 samples, 27 multisamples, 25 patches and 10 live sets.
Nylon is available to purchase as a download $49 USD. 20% upgrade discounts are available for existing customers.
More information: Sinevibes